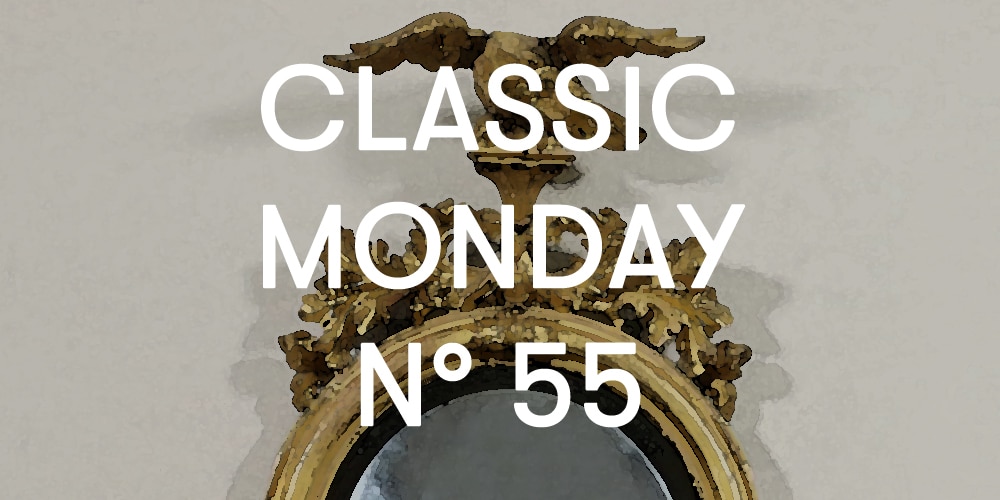 Our protagonist today comes from across the Channel, from England. It is an elegant carved and gilded mirror, expression of the Regency style.
Historically, this period lasted from 1811 to 1820, during the regency of George Augustus Frederick, Prince of Wales, replacing his father George III, who was deemed unfit to reign. The artistic style that characterizes this period continued in the following years, a natural passage also thanks to the rise of the prince regent as George VI.
The lower part is carved with symmetrical foliaceous volutes, also proposed in the cymasa, clearly a resumption of the dynamic baroque ornamental motifs.
But the circular frame is adorned with plant motifs already fully of Regency taste, as well as an expression of this style is the all-round carving of the eagle that stands on the cimasa.
Very interesting is also the mirror, consisting of a convex plate. This type of mirror is very ancient, as evidenced by the numerous testimonies in the history of art. Among the oldest attestations there is the one painted in the famous Portrait of the Arnolfini spouses by Jan van Eyck, where the reflective surface is used as a pretext by the painter to create a self-portrait at work. If it is used above all in the Flemish area, the most illustrious example, however, is the famous Self-portrait in the mirror by Parmigianino. Here the painter investigates the possibility of deformation of the surface, as well expressed by the hand in the foreground, exaggeratedly disproportionate to the rest of the body.
Its use by artists continued even six centuries later, still as an object of use or furnishing of bourgeois interiors, reaching the present day. Once again it is useful at least to mention Escher's spatial and illusory experiments, in which convex mirrors are also found, which increase the possibility of distortion of reality.
Once again, the piece of furniture that we present here is a real page in the history of style and art, certainly an object, the mirror, widely used in furnishings and that has always fascinated artists.