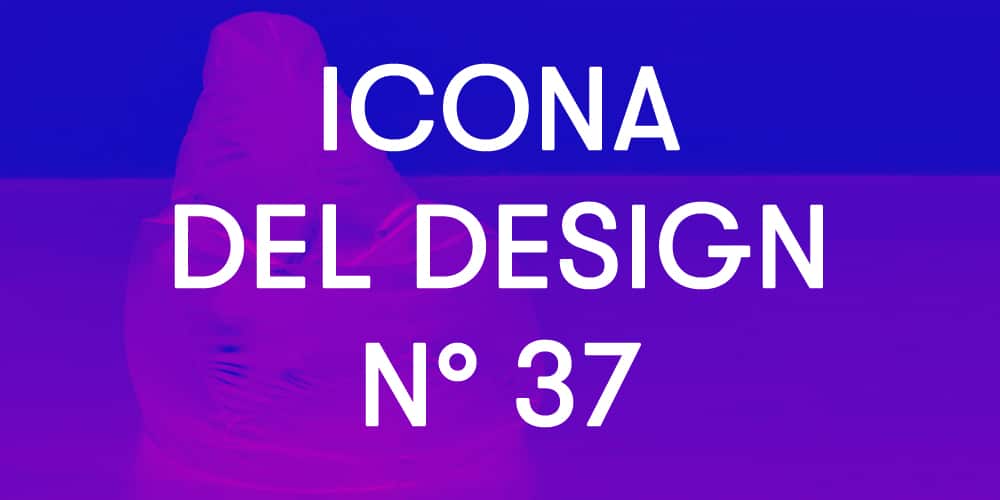 Today's appointment with the Design Icon is dedicated to the Sacco armchair.
Produced by Zanotta, this anatomical armchair was designed in 1968 by Piero Gatti, Cesare Paolini and Franco Teodoro.
In this regard, the designers expressed themselves as follows:
"Between 1967 and 1968, so-called ergonomics was fashionable. We were interested in designing objects that were as flexible as possible, which could adapt […] So we started to reflect on the material that would allow this adaptability: like the snow in which one throws himself and leaves us imprinted on the mold of his body."
And so the three – with a brilliant and revolutionary idea for the time – created a bag-shaped container filled with expanded polystyrene balls: here is a very light and ergonomic seat.
Presented for the first time at the Paris furniture fair in 1969, since then Sacco has received numerous awards at Italian and international level.
Among others, a mention at the X Compasso d'Oro in 1970 and the Compasso d'Oro for the product's career in 2020.
A pop and nonconformist icon who recently turned 50, the Sacco armchair is a casing containing high-strength expanded polystyrene balls.
First seat made without a rigid structure, thanks to its changing shape it adapts to any position chosen by the user, supporting the different postures in a harmonious way.

A cult object in the world of twentieth-century design, the Sacco armchair has established itself as one of the most famous icons of Italian creativity worldwide.
Fixed presence at the MoMa in New York since 1972, later it was exhibited in the permanent collection of contemporary art of numerous museums; Just to name a few:

Victoria & Albert Museum, London
Vitra Design Museum, Weil am Rhein
Musee des Arts Decoratifs de Paris
Design Museum at the Milan Triennale
Israel Museum, Jerusalem
Uméleckoprumyslové Muzeum, Praha
Kunstgewerbemuseum, Berlin
Kunstmuseum, Düsseldorf
Museum für Angewandte Kunst, Köln
Designmuseo Konstindustrimuseet, Helsinki
The Saint Louis Art Museum
Museum für Kunst und Gewerbe, Hamburg
Denver Art Museum
and the list goes on….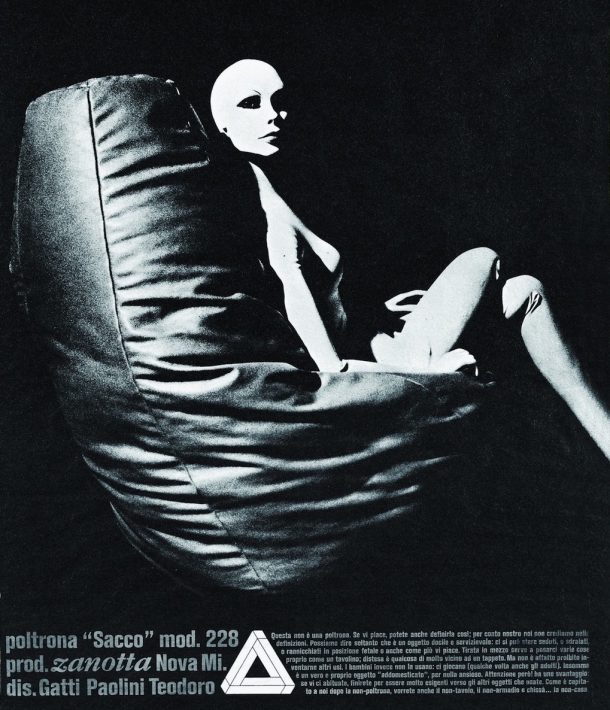 For lovers of original vintage, we have a flaming red one just arrived in stock in Cambiago and visible here.
Until next time!