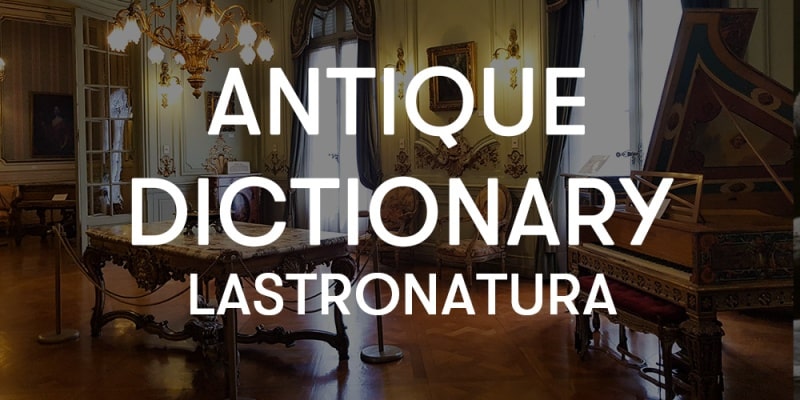 Today's word is: veneering. We explain what it is and the procedure of this technique for coating antique furniture.
What is veneering?
Veneering is a seventeenth-century technique used to cover the structure of furniture with slabs of precious essences. This process is used to cover mediocre or poor-looking wood. The most valuable woods used are: walnut and mahogany.
How was it done?
To make the most of the paving technique, great manual skill was needed. The first thing was to make the slabs from the trunk of the tree. These were cut with frame saws vertically. After that the plates were modeled on the furniture.
In the eighteenth century this technique was very popular; It was used both for the processing of furniture and for the furnishings of churches. It is precisely in this century that cabinetmakers acquire great skill and practicality with veneering. They therefore began to use it even for the most complicated furniture such as curvilinear ones and on pronounced moldings. In addition, they began to use exotic woods combined with particular procedures to obtain refined decorations.
A particular motif of this technique is the "quadripartite". It is obtained by cutting the slab at 45 degrees. The motif was obtained from a single piece so as to obtain identical but contrasting figures in the shape of x or herringbone.
The thicknesses of the veneer
Depending on the thickness of the slab used, the term used to identify the veneer varies. Here are the main ones:
"Slab" when the thickness was from 5 to 8 mm; in vogue from the fifteenth to the sixteenth century
"Slab" when the thickness was from 3 to 5 mm; in vogue from the sixteenth to the seventeenth century
"Piallaccio" when the thickness was from 2 to 3 mm; in vogue from the seventeenth to the nineteenth century
"Veneer" when the thickness was from 0.8 to 1 mm; in vogue from the nineteenth to the twentieth century
Nowadays, however, a plate of 0.3 to 0.5 mm is used but is still identified with the term "veneer"
An example
Today it is difficult to find an image that can make the meaning of paving clearer. This is because it helps more to touch and see live the furniture rather than a photo. The solution is to come to the store and our warehouses in Cambiago to discover all our pieces produced with the veneering technique.
In the meantime we present you a Veronese Baroque limelight.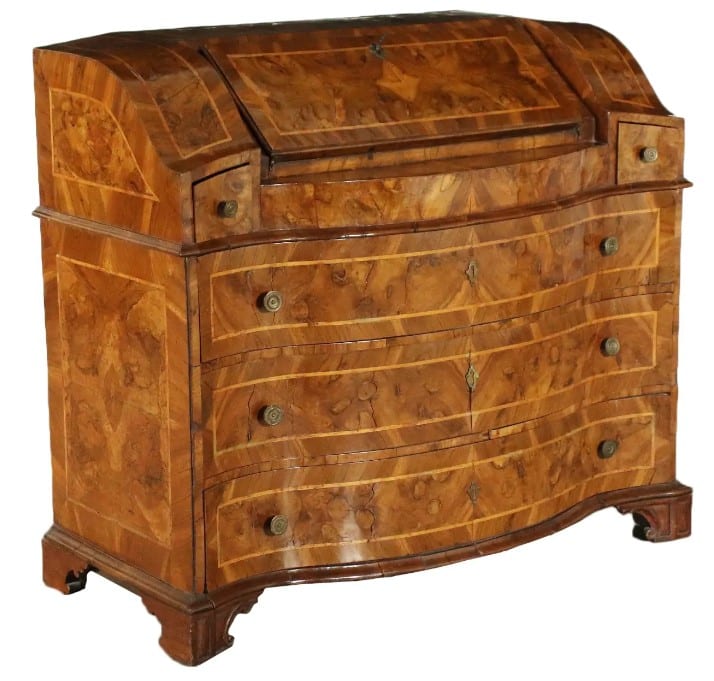 It is a baroque limelight of Veronese origin, supported by shelf feet carved with scrolls, on the wavy front it has three drawers surmounted by a sliding folding door concealing scribble with drawers and secrets; In the characteristic broad shoulders there are two other drawers. Walnut veneered with maple threads and walnut burl reserves; Spruce interior.