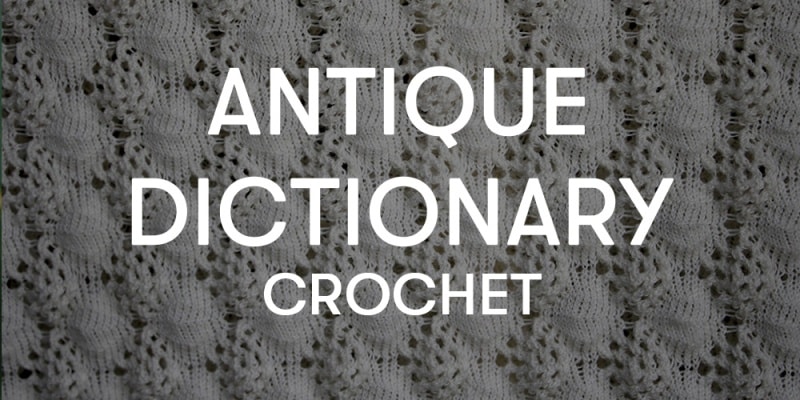 Today's word is: crochet. A term that you would never have expected in our dictionary but, we must not forget that Di Mano in Mano has many realities within it.
What is crochet?
Crochet is a small tool with a curved tip made of various materials. For example, steel for smaller types but, we can also find ivory, wood, bone and turtle for larger ones.
With this tool you perform a type of knitting; It has Irish origin and takes its name from the instrument itself.
Types of crochet
Two types of crochet are distinguished:
"German"; the most widespread, small in size. Baldini describes it this way: "every point is obtained by working in a single lap".
"Tunisian" also called "knitted". It is longer and involves "one round of departure and one return" (Baldini)
Features
From a description by Thérèse de Dillmont we understand that crochet hooks must be worked very carefully at their ends, well smooth inside and not too pointed; The bump should be slightly rounded and the handle not too heavy so as not to tire the hand.
Diffusion
Crochet, as we have already said, is believed to have Irish origin. The best works of this kind are considered to be those made from the middle of the century. XIX by the young boarders of the Ursuline Convent of Blackrock (County Cork). Another important center for this production was also Clones.
The history of crochet can then be retraced thanks to these words:
"When these works began to be machined in Switzerland and Nottingham, England, the production of Cork and Clones almost disappeared. However, it resumed at the end of the nineteenth century, especially in Clones".
An example
You may be wondering at this point what example we can bring you for crochet given the fact that we always talk about furniture. Today we get out of the box. In our warehouses we have an entire sector dedicated to antique kits and among these we find a double bedspread worked with crochet.
It is a double bedspread in piquet with embossed texture with geometric patterns. The border is crocheted.
If you want to discover all our antique kits you just have to visit our online catalog. Our advice, however, is to come and see them live in our stores in Milan and Cambiago!