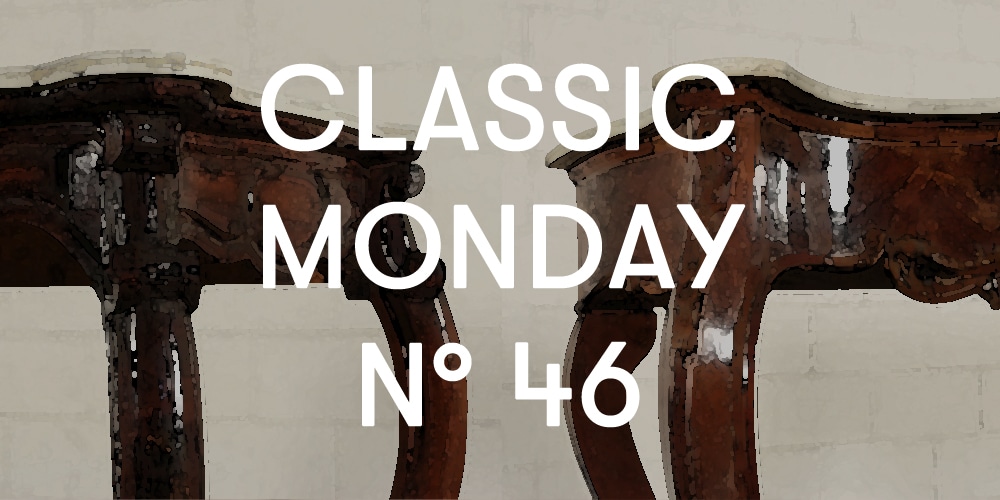 On Classic Monday today we want to present to you, comparing them with each other, two furnishings belonging to the same type, but very different from each other.
These are two consoles, a term to indicate particular wall tables, furniture more representative than functional, often surmounted by imposing mirrors or used as a support for decorative objects. Our two consoles are both dating back to the nineteenth century, although to different historical moments and geographical areas.
The first of the two, chronologically speaking, is a Louis Philippe console.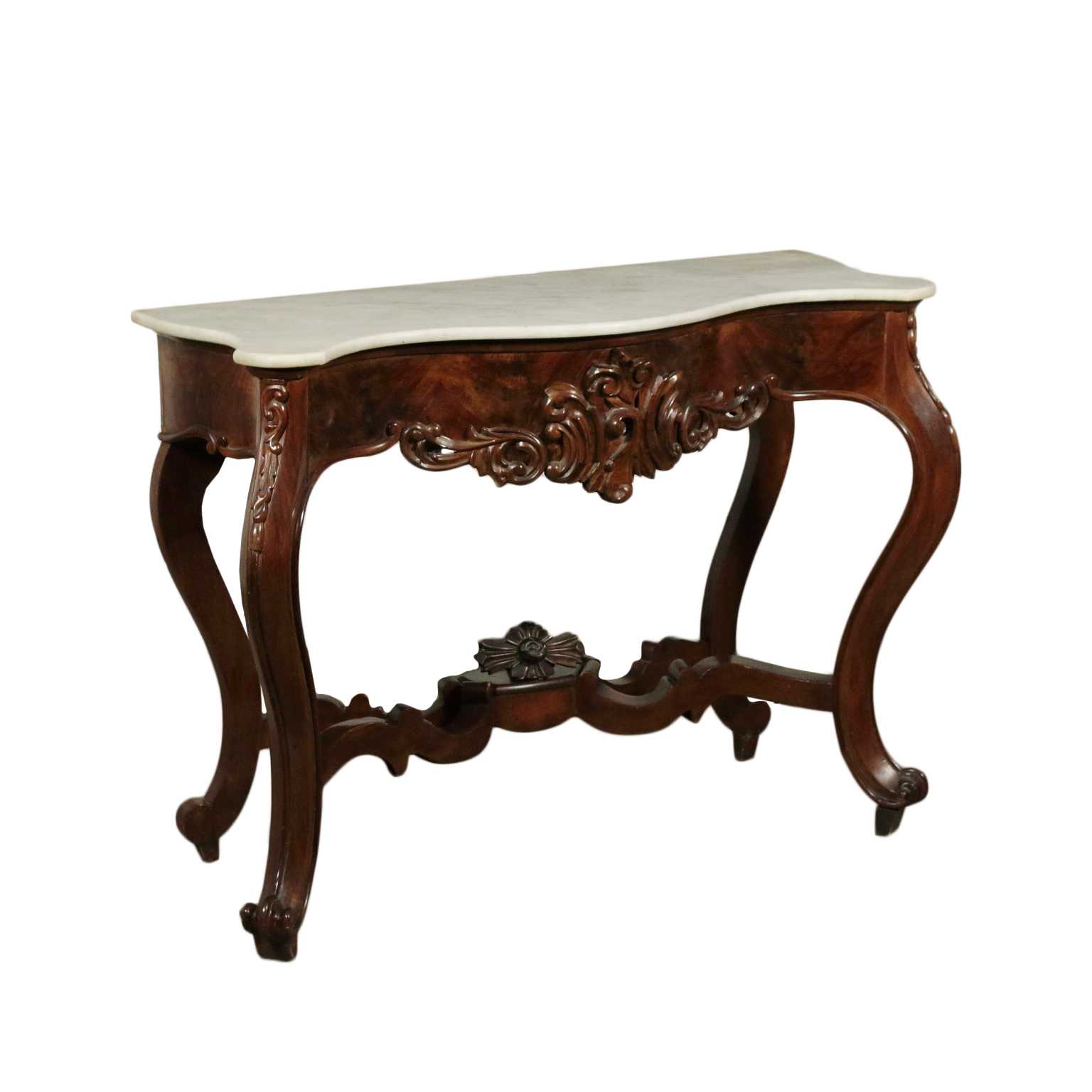 Supported by four moved and carved uprights with curly feet, connected to each other by crossbars with a central shelf, on which there is a carved floral element. The decoration also recurs on the apron of the front, where there are phytomorphic motifs always carved. The use of mahogany slab to veneer the furniture, with its characteristic reddish iridescent shades and legs with a very accentuated move, clearly denote the Neapolitan production, in which these stylistic characteristics are frequently found. This essence was in fact particularly appreciated and used in the Neapolitan area, for the effect of richness and iridescence to the reverberations of light typical of this essence.
The second console instead shows a later taste now moved towards the end of the century, defined umbertino.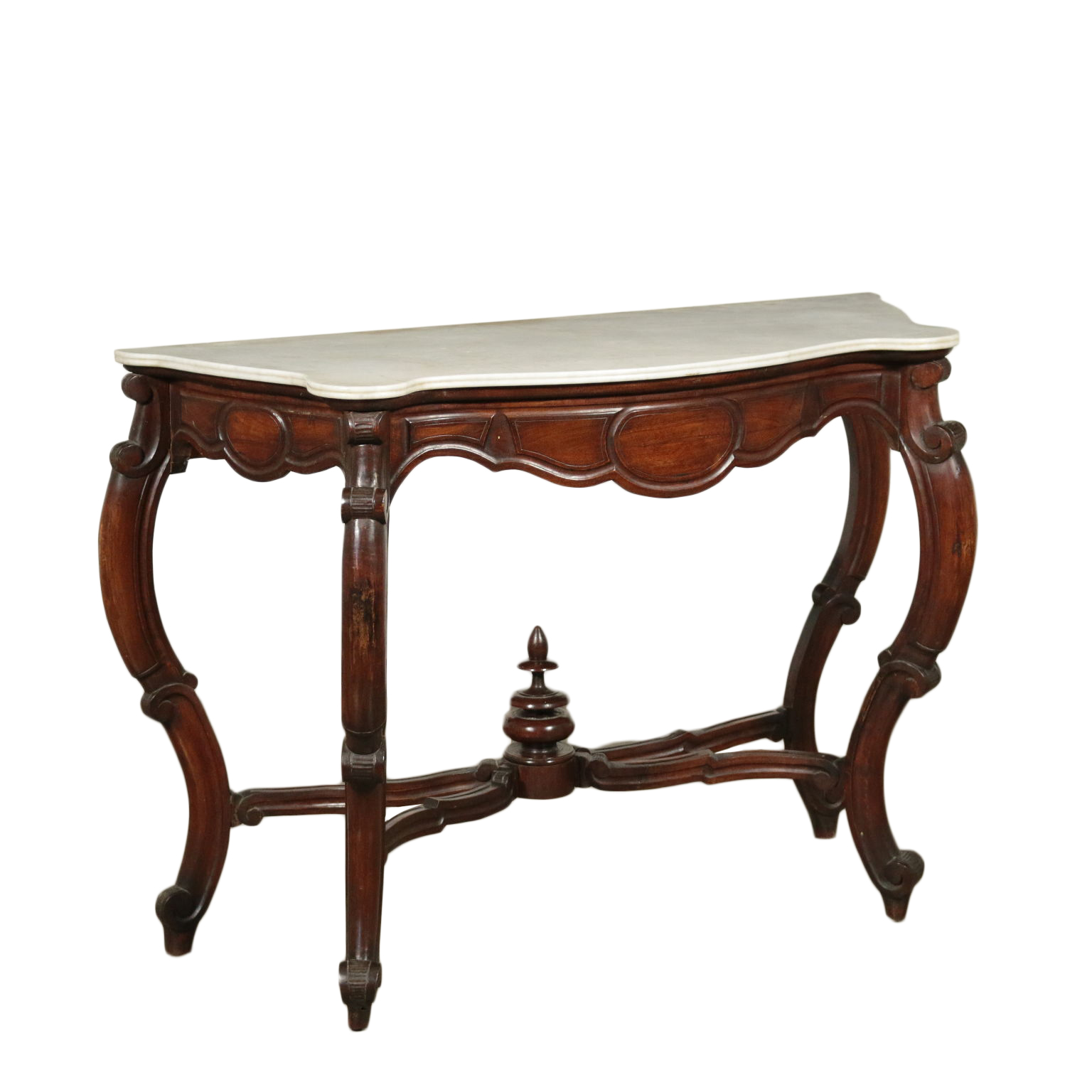 Also in this case the name derives from the name of the sovereign under whose reign this stylistic typology was established and spread. Although the structure and setting are somewhat similar to the previous one, the development of the shapes and decoration is very different. Differences can already be seen in the uprights, which are also moved, but in which the crowning is certainly less pronounced. Also here there are "X" crossbars; The connection point, however, is occupied by a central element with a cusp shape, a characteristic of the Umbertine style. The ornamentation on the apron has changed: the carvings with a vegetal reference have been replaced by shaped frames.
The material is also indicative of the origin of this console. No longer of Neapolitan production, but Lombard, an area in which the use of walnut is preferred, certainly also in function of its greater availability.
It is therefore interesting to be able to see how very similar consoles, both in shapes and sizes and made not many years later, reflect such different tastes, certainly also the result of the considerable production distance.