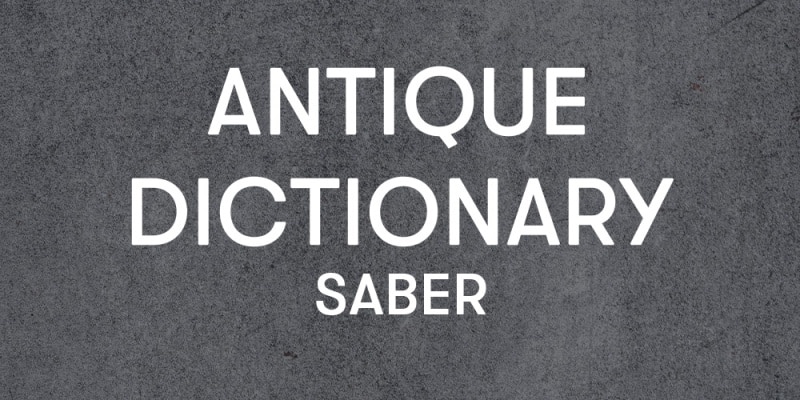 Today's word is: saber. We explain what the saber is and how it is made. Finally, thanks to one of our antiques we are going to discover its use in furniture.
What is the saber?
The saber is a white weapon named after Slavic-Hungarian derivation. It was widespread in European armies as a side and horse weapon. Despite this, its origin is southeastern.
How is it made?
The blade of the saber is single-stranded and sharp on the convex side. In most cases the blade is curved but can also be found totally straight. The blade also widens to about a third of the total length and then narrows at the tip. The handle has a small hood that almost completely covers the hand. There are many types of saber and, for this reason, it is very difficult to find a common explanation for all of these.
The saber and the furniture
You may be wondering why we chose this word for our antiques dictionary. The answer is simple. The saber is not only a weapon but also a type of decoration used in furniture.
The most common example we can give you are the "saber legs"; Simple but very elegant legs. They are called this way because they recall the shape of this weapon: slightly curved and narrowing towards the lower end.
It is a very common type of "legs" in antique furnishings, especially in chairs. In our gallery, in fact, we can find many examples of "saber legs". Although they have been used a lot for the sessions, today, we want to show you a Gueridon.
This is a Gueridon Maison Charles tripod. It is supported by saber legs with hoofed feet and connected by a circular crossbar. The round top is in black marble with gilded brass border. This Gueridon stands out for its production: Maison Charles (sometimes also called Maison Charles et fils). It was founded by Ernst Charles, who bought a bronzes company although he later specialized in lighting production. He established himself on the market for his great skill in bronze working. Since the fifties, Ernst's grandchildren Jean and Jacques have joined the company. The former had studied interior design and wood carving at the Boulle School in Paris. Jacques, on the other hand, had obtained a qualification in applied arts and interior design.
Given the characteristic elegance of the "saber legs" we want to show you other furnishings decorated in this way.
If you want to see all these pieces live, do not hesitate to ask for an appointment to visit our warehouses in Cambiago. We are waiting for you!